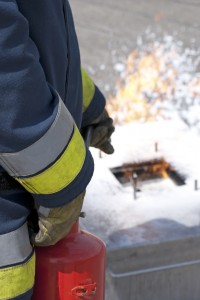 At GWL we train people to evacuate themselves and others as their primary objective. Training normally specific to your building or premises.
We cover all aspects of:
Extinguisher training – covering all types of fire extinguishers
Managing the evacuation procedure
Fire warden training
The level of training ensures that your site is legally compliant with the Regulatory Reform (Fire Safety) Order 2005. Our certificated training is valid for two years. You will have peace of mind that, in the event of a fire, your team will have the confidence and knowledge to ensure that safety will come first.
There will be plenty of opportunities to ask questions to the trainers and experience hands on use of fire extinguishers.
Fire Safety Training is delivered at your site – making attendance and demonstrations realistic.
Our approach is based upon our years of experience and expert knowledge of fire safety. We suggest this is vital for 'real life' effectiveness. We even offer a live fire unit to give first hand fire safety experience.
As well as offering fire safety training, we can also help with fire risk assessments, fire drills and emergency plans. Please contact us for a no-obligation chat about your fire safety.
Whilst we are based near London in Herts, we offer fire safety training throughout the UK.